Catering for Business Meetings and Corporate Events
Henry Loustau's Corporate Luncheons of Woodstock, Georgia, offers clients a simple way to provide luncheons to businesses in the Metro Atlanta area. Fresh and tasty food presented in a professional manner and consistent service every day make us your number one choice for business and corporate luncheons.
We always provide a wide variety of choices, made with quality fresh ingredients. Enjoy our wonderful array of deli sandwiches and salads, individually packaged, perfect for business and corporate events as well as sale and company meetings.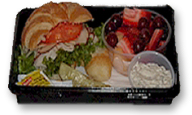 For the professional touch you are looking for, call Corporate Luncheons at (404) 518-2250, or email henry@corporateluncheons.com, or use our simple online order form below! All our lunch boxes are $9 each with FREE local delivery (please note that we require a minimum order of 4 boxes).
Prestige Corporate Luncheon Clients
Sophia Academy
Chattahoochee Tech
Merrl Lynch
Sacks Fifth Avenue
Wachovia Bank
Balser Company
Nordstrom
Carter Barnes
Cumberland Academy
For schools we can customize a lunch box menu to suit your cafeteria or student needs.
Call us on (770) 516-5050 for our special pricing and discounts.
Order your Business or Company Lunch Online
Ordering is very simple! Just add quantities next to the lunch boxes you require. You may also add any special requirements such as "no tomatoes" or "extra onions" as you wish. When you're finished, submit your order at the foot of the page. We will be in touch with you shortly after!